Youth and adults from Delaware's Brandywine School District are collaborating to elevate and empower student voices. Brandywine High School, Mount Pleasant High School, and Concord High School youth have met throughout the year in school-based teams to envision what engaged youth voice could look like at their schools. These teams also gather to organize and mobilize together as a full Student Voice Advisory for the Brandywine School District during retreat days. The full group gatherings are dynamic, energetic, and inspiring.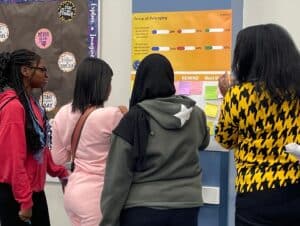 On January 26th, the full Student Voice Advisory team came together for a retreat facilitated by UP for Learning staff and youth facilitators to look at BSD district and school-based data. This data was focused on diversity and inclusion, cultural awareness, sense of belonging, pedagogical effectiveness, and overall student well-being. The Student Voice Advisory team spent time analyzing data and identifying priorities to drive change in their school communities. Feedback from the day highlights the value of this work, with participants reflecting:
Now I know, "my voice matters and I hope that one day kids like me can make a change for schools and their districts"
The "unified feeling and want for positive change will stick in my mind since it gives me hope for a brighter future"
"We are all going through similar things referring to mental health and how it is being handled in school"
I am taking away "the data we saw from each schools panorama survey are really inspiring, and remind me of more problems in the school that are prevalent in my own life"
I learned "the power of student voice when used in the right context and purposefully"
"This is working… keep doing it."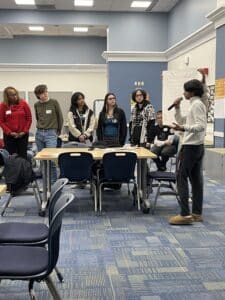 The Student Voice Advisory groups will now take what they learned and bring this data back to share with their communities. There are plans to engage faculty in a professional development that centers a student panel speaking about their experiences as well as sharing the data with staff, to create surveys for teachers to give their students to ask for meaningful feedback on their teaching and student learning styles, and to engage the wider student body in conversations around certain data points to generate more ideas for change. Participants left the retreat full of tasty food, happy about the new connections and friendships they had created, and inspired to cultivate more change and action in their local school communities. 
UP for Learning will continue to support the youth facilitators from the school-based teams to create agendas, plan for engaging their communities, and plan for our next full Student Voice Advisory Retreat on March 30th. This team is dynamic, emergent, and exciting, the educational landscape of Delaware is interconnected and engaged, and UP is connecting with several community partners to dream up more opportunities for youth to mobilize towards educational transformation!