Lamoille South Unified Union is engaging in a Portrait of a Graduate (PoG) project facilitated by UP for Learning. Stakeholders from across the communities of Elmore, Stowe, and Morristown have been collecting data around the central question: What are the most important characteristics, skills and experiences that graduates of LSUU need to prepare them for success in learning and life? This youth-adult team of 32 people is made up of students from all schools (elementary, middle, and high school), community members, parents/caregivers, teachers, administrators, school board members, and the superintendent. The youngest person on the team is 8 and there is at least one member of the team who is a grandparent. Witnessing the collaboration, teamwork, shared power, and shared responsibility is amazing.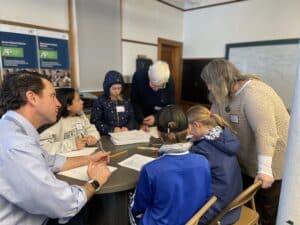 This involved and inspiring team collected input from hundreds of voices through various community engagement efforts, in-school facilitated activities, faculty meetings, and survey questionnaires. On January 20th, the PoG Team gathered to look at all the data that was gathered, analyze their findings, and see the themes rising to the top.
The data set was massive and the team worked efficiently and actively to identify the top 15 skills, characteristics, and experiences that all LSUU graduates should have to set them up for success in ongoing life and learning. The team is finalizing the wording for the top skills, characteristics, and experiences soon, and they will be working with local students studying graphic design at the Green Mountain Technical and Career Center to create a visual of the Portrait of a Graduate.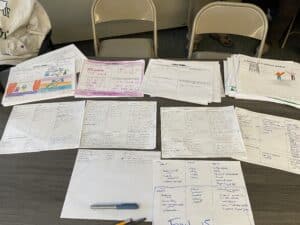 The finalized portrait will be shared and celebrated with the communities following its completion. The PoG Team will plan these celebrations at our next retreat on March 28th. The district will center the Portrait of a Graduate as they develop their strategic plan. Actualizing this community-crafted PoG will ensure that all voices are honored and prioritized in the decision making of the LSUU School District.