UP for Learning joined 25 rising 8th grade youth from across Vermont's Northeast Kingdom for a day at Vermont State University in Lyndon. Supported by UP and the Vermont Rural Education Collaborative, the youth explored their own identities and aspirations around leadership and their goals after high school.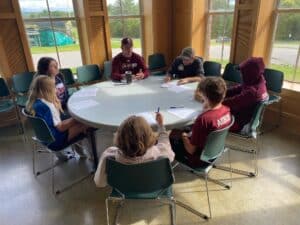 In the morning, the youth developed a sense of community within the group. Coming from a number of different schools, this was their first time getting to know each other. Starting with playful icebreakers and games, the group then opened up to have meaningful conversations about their personal values, their identities, and their leadership skills. 
Representatives from VSU Lyndon shared information about the school and college in general to help the students think about their options after high school. A campus-wide scavenger hunt helped participants explore the school. For many of the youth, this was their first time visiting a college campus!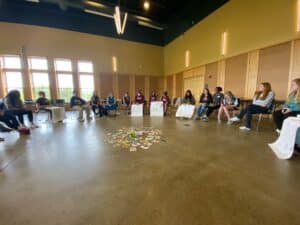 In the afternoon, UP supported the youth in considering who they aspired to be in their future. This included revisiting their values that they had thought about in the morning, hearing from current college students, and brainstorming visits to different college and career centers that they will take later this year.