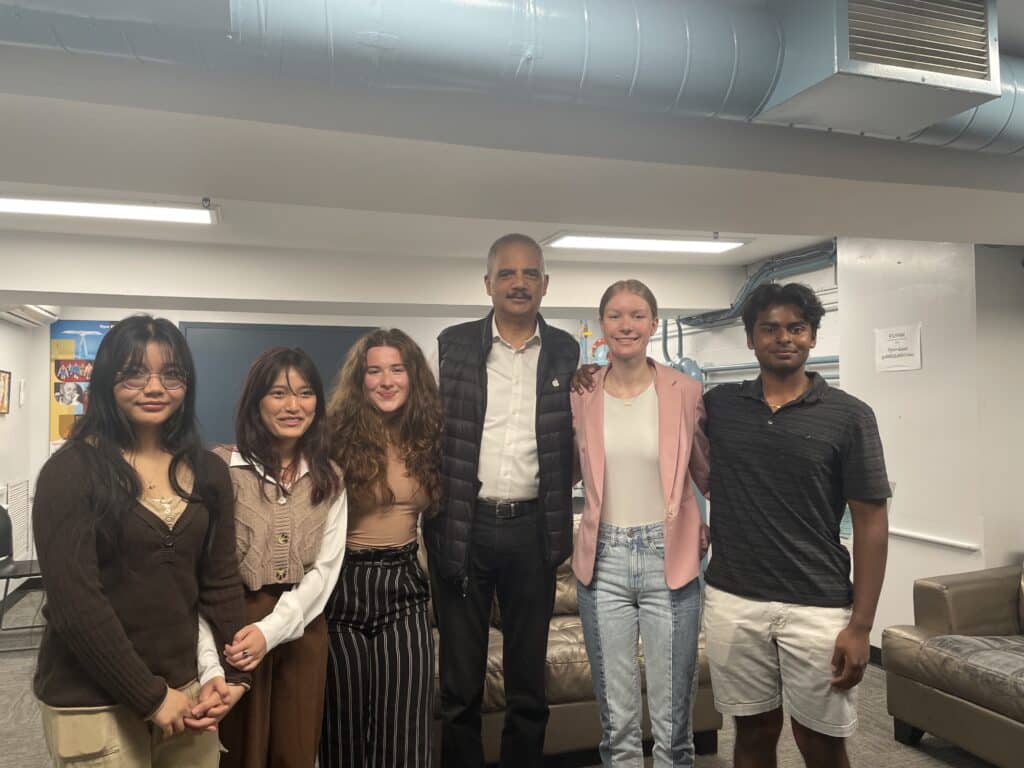 On Tuesday, May 16th, five youth interns from UP for Learning facilitated a vibrant panel discussion at Burlington's Flynn Theater with former Attorney General for the United States, Eric Holder. Holder is currently on a tour for his book, Our Unfinished March: The Violent Past and Imperiled Future of the Vote–A History, a Crisis, A Plan, and he stopped by the Flynn as part of their Student Matinee Series. The series is sponsored by Vermont Student Assistance Corp, Vermont Public, the City of Burlington, and the Burlington Office of Racial Equity, Inclusion, and Belonging. 
UP youth interns Maisie Franke, Jewsin Antony (Harwood Union High School), Auishma Pradhan (South Burlington High School), and Mea Ree Jan (Winooski High School/Essex Tech) asked Eric Holder a range of questions covering his day-to-day experience as the first African American Attorney General, his perspective on voting rights, as well as his suggestions for how to most effectively advocate for social change.
They also posed questions particular to Vermont, such as how he views Winooski and Montpelier allowing non-citizen voting in municipal elections, as well as his thoughts on our state's tradition of town meetings and how it compares to other forms of voting. Holder's answers were thoughtful and passionate, and the youth did a wonderful job facilitating the discussion. Towards the end of the event, Holder took questions from the audience, with one student asking about the role of social media in advocacy work, and another posing a question about how to engage in protests safely. The audience, made up of 450 students from eleven area schools, was respectful and engaged throughout the discussion. 
After the event, Patrick Leduc, CIO and Vice President of Career and Education Outreach and Human Resources at Vermont Student Assistance Corp noted, "Mr. Holder shared on multiple occasions … that this group of students was one of the very best he had ever worked with. He consistently promotes Vermont as an example of how to expand voting rights and he will now be promoting our youth and education systems as well. Of note, Mr Holder's head of security, who is always scanning the crowd, asked me if we make students leave their phones on the bus, as he saw no one on their phones during the entire conversation. Mr. Holder added that even the ad-hoc questions from the audience were thoughtful and impressive."  
We are so proud of our incredible youth interns for their confident and engaging facilitation skills, as well as all of the youth who attended the event!