On July 19th, the forty-four middle and high school youth who participated in this year's Summer Racial Justice Academy delivered their capstone presentations to the Burlington School District board, administrators, and community members. The event, held at the auditorium at Lyman C. Hunt Middle School in the North End, included a display of the paintings that the group focusing on Visual Art completed, as well as presentations by the Performance Art, Social Justice Education, Documentation, and Youth Organizing groups. The powerful paintings expressed themes of empowerment, representation, solidarity, and self-love.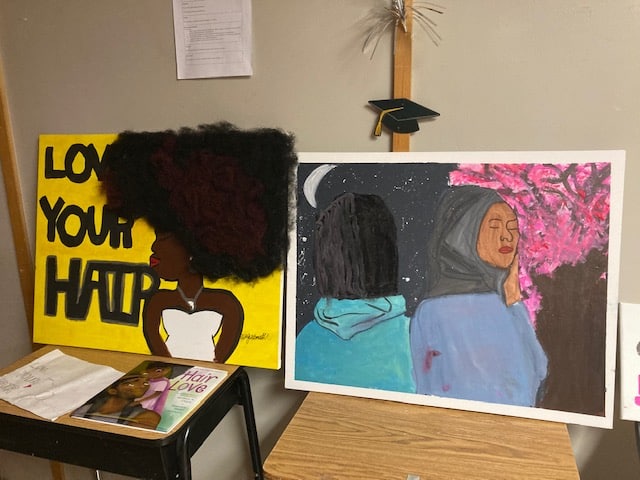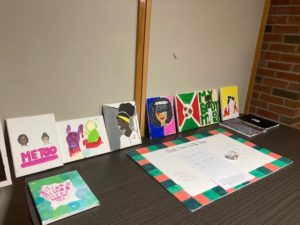 The five slam poems that the youth performed, entitled "Teachers," "I Think There's a Problem," "They Think I'm Black," "The Bell Rings," and "Proud" describe experiences with microaggressions at school, among other topics. In "Proud," rising 9th graders Christina Adolphe, Nyankor Ateny, and Binti Awayle write, "The depth of my skin tells the story of my ancestors / Congo, Somalia, Tanzania, South Sudan / My beautiful black skin / They see it as a sin / They make it a weapon / We love our skin" and in "I Think There's a Problem," Dereece Parent says, "I think there's a problem / we don't learn enough about black history, my history / we don't learn enough LGBTQ+ history / we don't learn enough about world religion."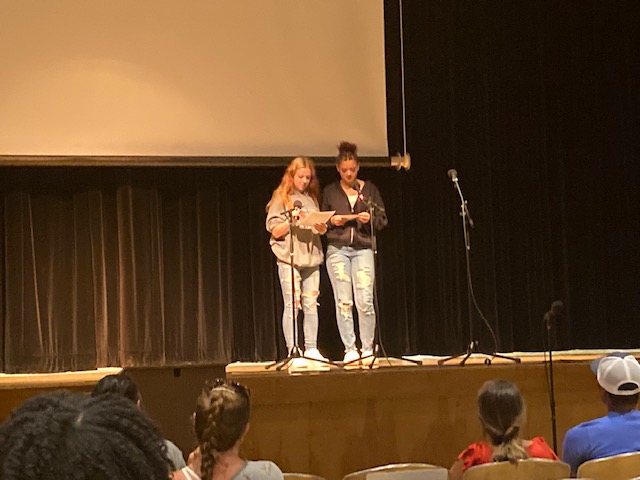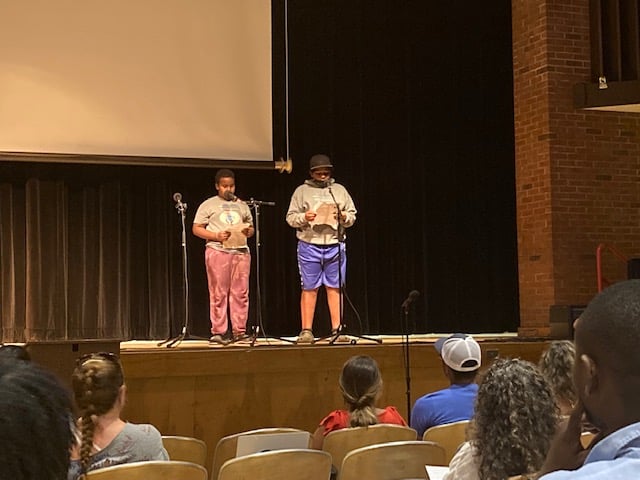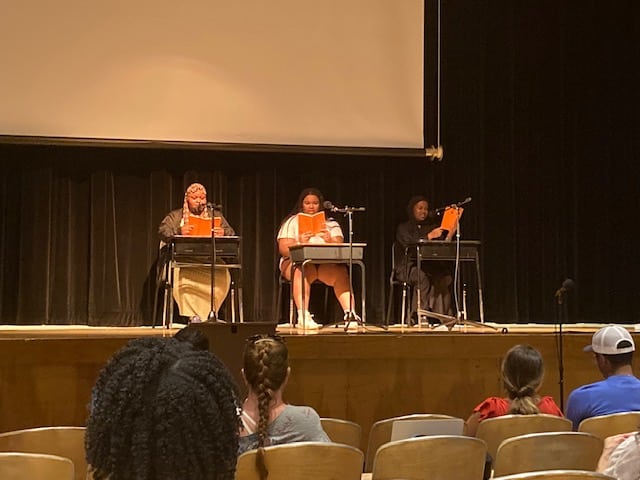 The Social Justice Education group spoke of their experiences reading inclusive children's books to first graders taking part in Burlington's Summer Opportunities Academics & Enrichment (S.O.A.R) program. The books they read and discussed, Matthew A. Cherry's Hair Love, Grace Byers' I Am Enough, Ibtihaj Muhammad and S.K. Ali's The Proudest Blue: A Story of Hijab and Family, and Francesca Sanna's Me and My Fear all have themes of empowerment and belonging. Another group of Social Justice Education students created a board game called "Black Power on the Move," which teaches players important events in Black history, and then played the game with the elementary school students. The youth spoke of how impactful it was to read and discuss these books with younger students, and of the importance of starting to have discussions about inclusion and belonging at an early age.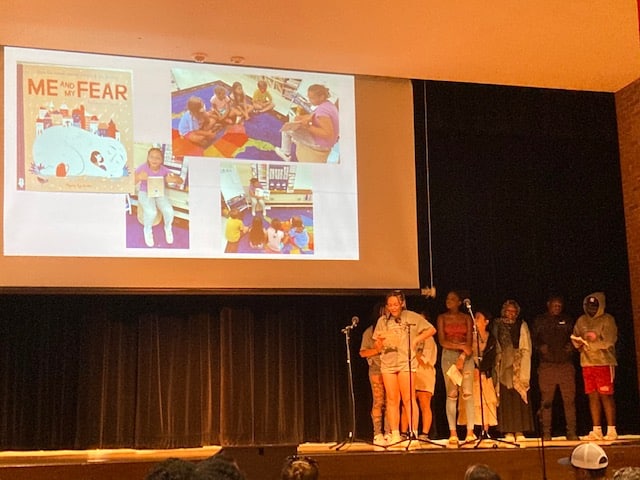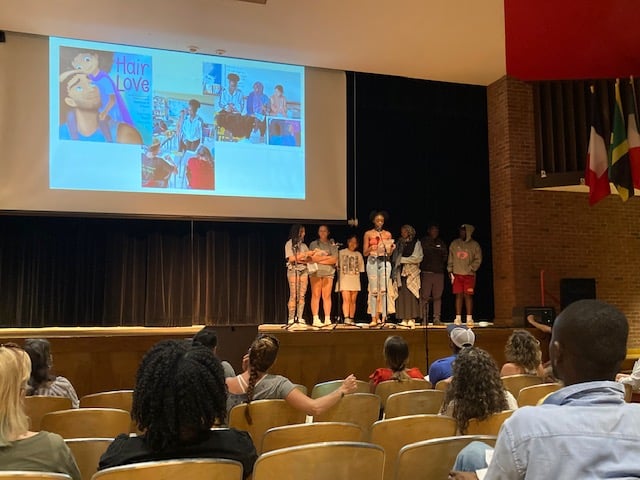 The Documentation group then showed a video that featured students discussing discipline practices, and whether or not they feel safe reporting racist incidents at their schools. The testimonials are honest and detailed, and speak to the need for change.  Finally, the four Youth Organizing Groups walked the audience through their research and ideas on how best to support students, a lesson plan for educating staff and faculty on anti-racist teaching practices, a protocol for how to hold staff accountable when they enact harm, and a proposal to create a peer mediator program at Burlington High School. Each group's presentation included concrete data that enhanced and supported their conclusions, and offered thoughtful proposals for how to implement change.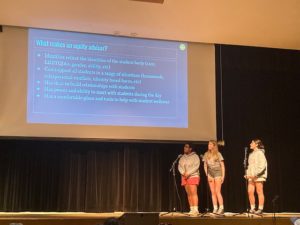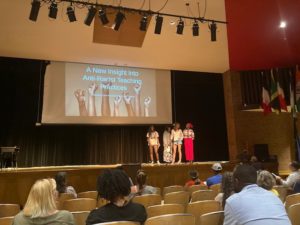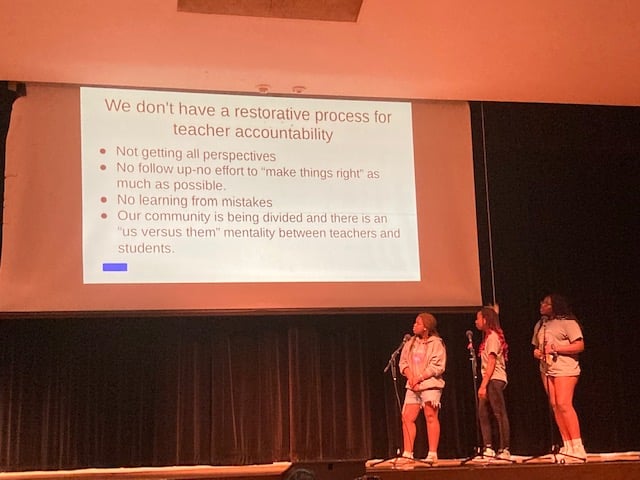 One of the most powerful portions of the event was when the youth spoke directly to the board members and administrators, asking what concrete action steps they will take to make their schools a place where every community member feels a sense of safety and belonging, and in particular, how they will hold staff accountable for harm. The result was an honest, and at times, difficult discussion of where the district has fallen short in the past, and what can be done to fully and actively move towards positive change and healing. When speaking to the adults, Augustina Mampouya-Louamba, a rising junior at BHS, acknowledged the tension in the room, and reminded the audience of the importance of partnership. She remarked, "Getting educated by somebody that's younger than you is nothing to be ashamed of. There's nothing wrong with that. We want you to understand that we're only trying to make us better…. We've been working a lot with youth and adult partnership and we want that. In order to do that, we actually have to take those steps. We are a seed right now. We want to become a tree; we want to become beautiful. And if we really want to do that, we've got to work together, we cannot bash one another." The presentations concluded with this video that expresses some of the middle school participants' wishes for themselves and their community. We are so proud of the brave work that the youth and adult participants in the Racial Justice Academy accomplished over the past three weeks; they are already impacting their community in profound ways, and will continue to have an impact in the school years to come.