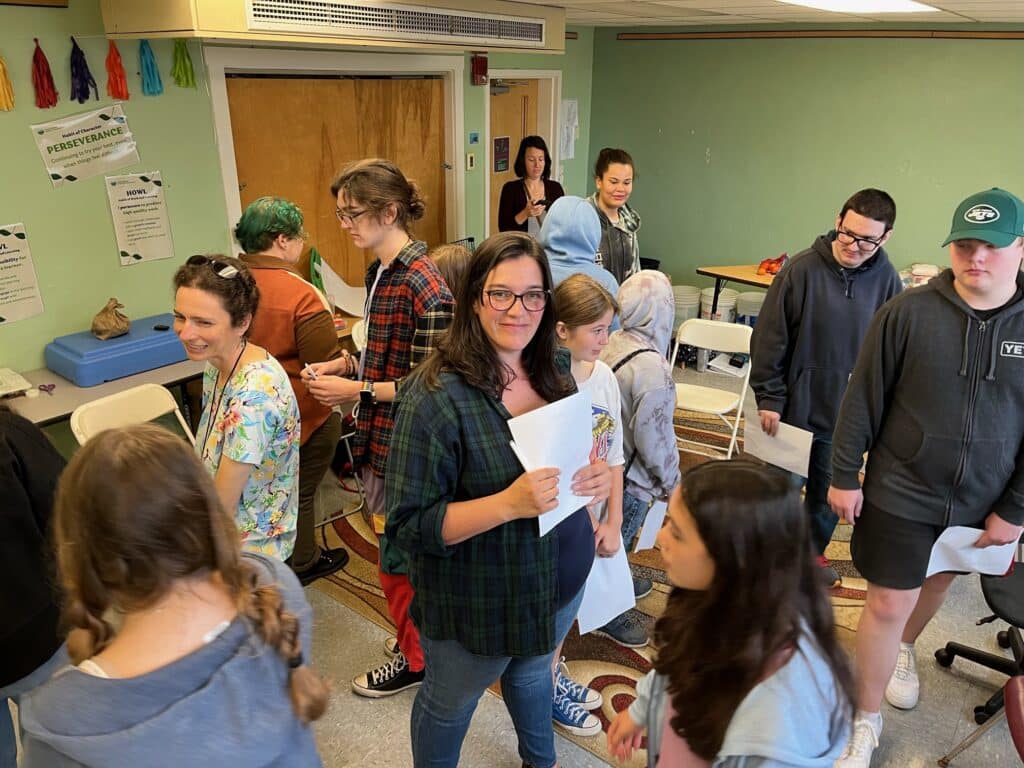 Cabot School's youth facilitators kicked off their year this week, joining UP staff Max, Katie, and Pat for a morning retreat on Tuesday, September 12th. The team works to support Cabot's after-school program, where middle and high school students co-lead a variety of activities with adult partners. Building on their work from last school year, the team from Cabot is thinking about how to be strong facilitators and role models for the younger students who participate in the program. 
During the retreat, the group refreshed their skills and knowledge from last year and continued to think about how to be effective leaders. This included discussing positive leadership and facilitation strategies, practicing discussion protocols, and playing community-building games as a group. 
When asked to share what they were looking forward to this year, the participants noted that they anticipated learning about leadership, and also making new friends and connections. "I'm excited to learn, make new friends, and find new opportunities," wrote one youth participant. 
This is Cabot's second year of working with UP for Learning. One of the joys of having teams continue with their projects year to year is getting to work with both returning and new team members. This allows the team to more seamlessly continue their work and develop a strong sense of community. One new participant wrote that they were most excited about learning from the team members who had been there before them. 
Cabot youth facilitator Shianne Charette reflected, "As a facilitator last year I came in from being home-schooled, new to the students and new to the environment. Coming in new was a scary experience and knocked down my confidence quite a bit. I struggled to connect with the kids and talk to other facilitators. When I came out of it last year I was a strong leader and I was able to direct the kids and be a strong facilitator. I was also able to talk to the facilitators and kids with more confidence than before. My experience facilitating the UP For Learning training last year was really fun and a great way for me to be able to grow as a leader and be more confident with lots of people, something that I struggled with before. This year at the training I again had lots of fun, and I'm excited to use the things that I learned from last year such as games, and fun ways to get to know each other in my clubs. I'm excited to use what I took from this year (such as "Where the Wind Blows" and "Secret Dancer"),  in my clubs and even outside of the after-school program to facilitate other events that might come up. The program is a great way for new facilitators to learn how to facilitate and regain confidence in themselves." 
The Cabot team's sense of community was on full display on Tuesday. The UP facilitators introduced a number of new games and activities that the team could lead by themselves with the younger students in the after-school program. Beyond being a chance to build their facilitator skills, games are also just plain fun! The group ended the retreat with a new game that the team members made up on the spot – a wild combination of "Where the West Wind Blows" and musical chairs. It was wonderful to begin the year with laughter and excitement for the work ahead! 
Written by Pat LaClair and Katie Ingraham, UP Program Directors