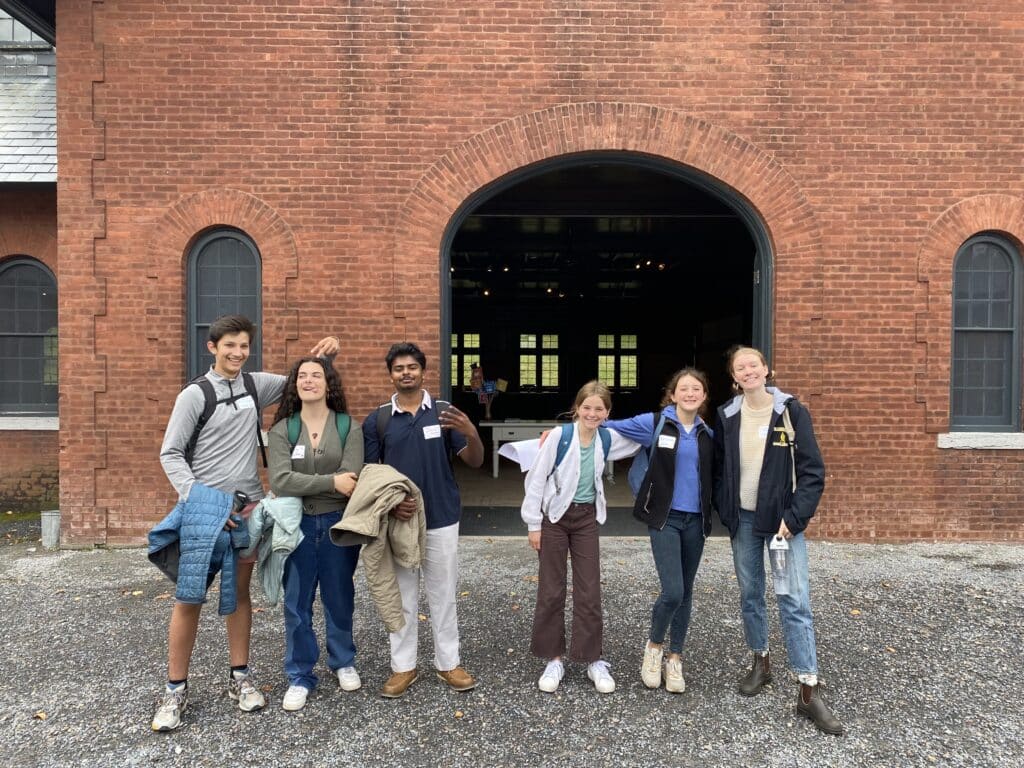 How exciting to finally be back at beautiful Shelburne Farms for our Cultivating Pathways to Sustainability (CPS) Kick-Off this year! CPS is an inspiring year-long program for youth and adults in schools and is a partnership of Shelburne Farms and UP for Learning. Over the course of a year, youth-adult  teams will participate in Youth Participatory Action Research (YPAR) to develop, and implement community action projects addressing the United Nations' 17 Sustainable Development Goals – which focus on pathways to building a socially, economically, and ecologically just society.
Youth and adult teams from Harwood Union Middle School and Georgia Elementary/Middle School joined us in person on October 13th for a full day of learning, conversation, and connection. Teams from Burke Town School, the Piney Woods School in Mississippi, and Madison County Charter School in Georgia also joined us virtually during the first part of the day. Former and current CPS participants Maisie Franke, Jeswin Antony, Asa Lloyd, and Olivia Scharnberg spoke on an opening panel, sharing their experiences and offering advice for youth who are new to the program. Maisie and Jeswin, who created a store selling sustainable goods during their time at Crossett Brook Middle School, both spoke of how taking part in CPS had given them principles and knowledge that they have transferred to other areas of their lives, including academic classes and clubs. The Cougar Co-op, as it is known, continues today! Olivia and Asa shared stories of creating and running a sustainability class at Montpelier's Main Street Middle School, and how they have developed leadership and facilitation skills throughout their CPS experience. 
After the panel, the teams watched a short video about the United Nations Sustainable Development Goals, then spent time sorting the 17 goals in terms of what they feel is most critical and relevant to their school and community. The youth teams engaged in spirited discussions, then shared out their priorities with the whole group. Their answers ranged from zero hunger, life on land and life in water, and gender and racial equity. After listing these priorities, the teams brainstormed areas at their school in which they might want to take action, and the lists were long! Some of the proposed ideas included building a playground, planting a community garden, cleaning up a local river, and starting an LGBTQ+ club. 
After a delicious lunch at Shelburne Farms, and a game about interconnectedness and systems thinking, the teams broke into discussion groups led by UP youth facilitators and community partners. Laura Maclachlan from Vermont Energy Education Program and Lauren Traister, 4-H Teen and Leadership Program Coordinator at UVM Extension, spoke with students about environmental justice and climate change. Qing Ren, Evaluation and Program Analyst at Shelburne Farms and VT FEED, spoke to students about social and racial justice, and Jeswin and Annika Brinkley, an AmeriCorps member working in the education program at Shelburne Farms, discussed economic justice and sustainable communities. The day concluded with a wagon wheel activity in which youth and adults answered the questions "what does sustainability mean to you?" and "what is one thing that you feel hopeful about in your life, in your community, and the world?" 
After the event, youth from the Harwood Union Middle School team shared that some of their highlights from the day were "talking to people about inequality in our schools and knowing that other schools have similar problems" and "playing the games and introductions to get to know who else was there and a part of the program." They gained "inspiration and ideas" from the panel of CPS alumni, and stated that they were excited "to help clean up [their] community in an environmentally friendly way" and "that the project they complete will be lasting at their school." 
The kick-off was truly inspiring, and we look forward to meeting with each of the teams–including those from Westford School, and Kopila Valley School, in Nepal, who were unable to attend–to help them put their many great ideas into action this year!
By Christie Howell