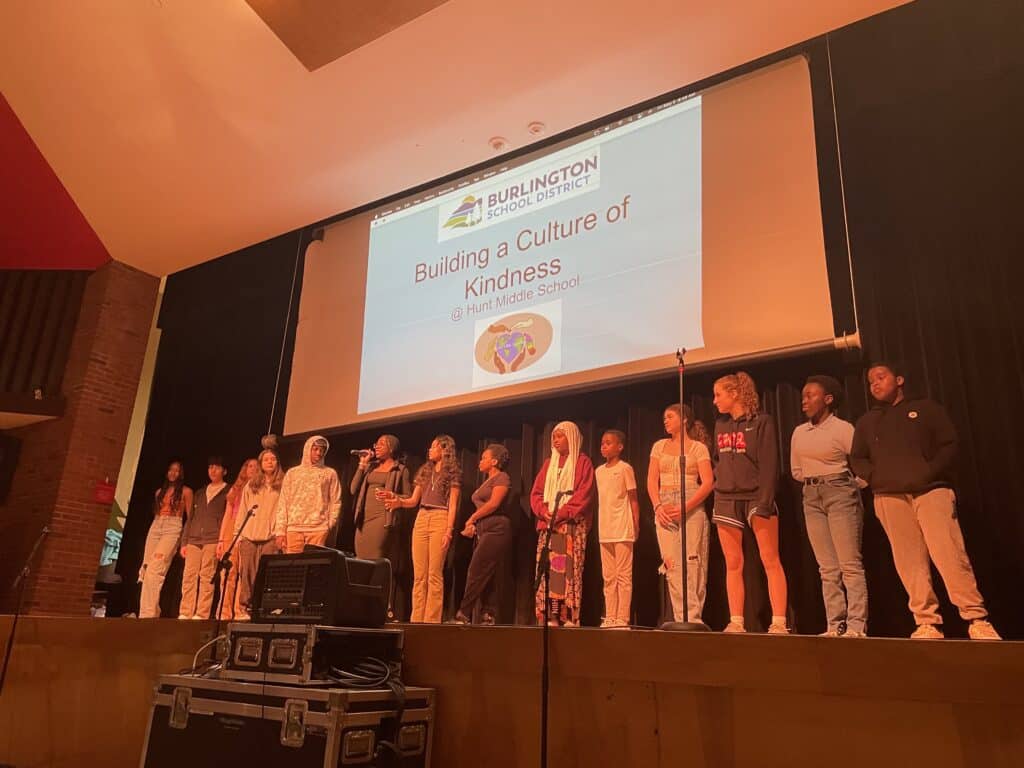 Members of the Hunt Middle School Youth Participatory Action (YPAR) Team gave a powerful presentation to the entire school community on Friday, May 5th. The presentation focused on how to improve the culture and climate at Hunt, and featured student speakers from the 6th, 7th, and 8th grades, as well as adult members of the Burlington School District Equity Office.This team has been working this year with funding from a Department of Children and Families (DCF) grant focused on reducing racial and ethnic disparities in the district's suspension data. Their slideshow included results from  a 2022 survey administered by the Hunt Middle School Social Justice Club, which posed questions about students' experiences of hearing hate speech at the school, as well as their feelings about whether or not the school holds students accountable for hate speech. Out of 207 responses,  nearly 75% percent of students said that they had heard hate speech directed at people because of their race, and close to 60% had heard it directed towards people because of their gender. Close to 83% of the student body strongly agreed that it was important to work on preventing hate speech at Hunt. 
As part of the assembly, Burlington School District Hazing, Harassment, and Bullying Coordinator Teresa Giallorenzo presented the definitions of bullying and harassment, and listed the categories of identity that are protected under the district's policy. Henri Sparks, the district's Equity Director, also spoke about the accountability of both students and staff in helping to change the culture. The team closed the presentation by playing this video from the "Love Has No Labels" campaign, saying that it depicts the kind of culture they want to create at their school. After the assembly, students returned to their advisories, where teachers led an activity, designed by the YPAR team,  in which participants learned terms from Tiffany Jewell's This Book is Anti-Racist and facilitated discussions about what proactive steps community members can take to improve the culture at Hunt.  
When asked about their impressions of the assembly, many members of the team noted that a memorable moment was when they asked the school, "How many of you want to end the use of hate speech in our community?" and everyone's hands went up. They also noted how respectful the audience of their peers was during the presentation, and how they were proud of having taken the risk to stand up and speak out for what they believe. One said that she felt like she overcame stage fright by speaking in front of so many people! Many youth also remarked that it was helpful to do a run-through of the presentation and advisory conversations at a staff meeting ahead of time, so that the teachers knew how to prepare for the activities. 
We are so proud of this dedicated, inspiring, and passionate team. They have built a strong community, participated in many challenging and honest conversations, and taken action for what they believe, not only during this presentation, but throughout the year. We cannot wait to see what these leaders do next!