This toolkit is meant to serve anyone who recognizes the need to remodel our public education to reflect the changing times. It is for people who value student-centered approaches to learning, based in solid science and best practice.
Whether you are an administrator, teacher, community leader, school board member, student, or interested parent at a school that is endeavoring to become more student-centered – we know that you have a lot on your plate. We have tried to make this kit as user-friendly as possible.
This kit will be most immediately useful for those leading a school redesign effort: school, district, student, and community leaders and facilitators. If you can dedicate a few hours, read the kit in its entirety to be introduced to a powerful approach to communications work that goes beyond "selling" a message.
Throughout, you will find tons of examples, resources and guides, activities, and best practice tips to spark ideas and save you from creating everything from scratch.These tools can be accessed quickly even if you don't have time to read the whole kit. Look for sample press releases and brochures in the Public Story section, conversation protocols in the Deep Dialogue section, and resources to support youth as researchers in the Youth Engagement section.
Teachers involved in a school or district-wide redesign effort will certainly find relevant and useful content here. In particular, you may be interested in the suggestions in the Deep Dialogue section on making conversations around education more productive.
Teachers may like to read the suggestions and check out the resources on the Reframing the Public Story page to more effectively communicate with the wider public. The Youth Engagement section includes links to a number of tools and articles any teacher can use to increase student voice in their classrooms.
Anyone interested in student-centered approaches to learning may find the Public Story Section insightful. In particular, the Reframing the Public Story page explores the ways in which the public views education. The resources here may spark ideas to reframe the story and refine the language you use to communicate with peers and the wider community about school reform. In this way anyone can contribute to the public conversation and become an agent of change.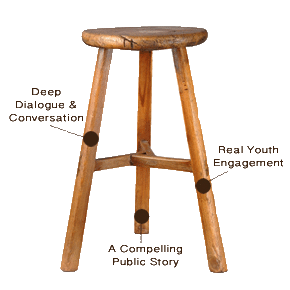 You might think of this Toolkit as a kind of "workbench" of ideas and best practices. There are three sections in the Toolkit, representing three parts of a "theory of change" or what we think are the essential elements of effective public understanding and engagement for student-centered learning.
Think of them as the three legs of a sturdy wooden stool…
When youth and adults hear a clear and effective message and have the opportunity to deepen their knowledge through ongoing conversation, they come to view themselves as participants in a meaningful process, rather than as consumers of a product. When we treat people as citizens who have a say in the destiny of their community, they respond with their hearts, minds, and hands.
The kit is divided into three sections that correspond with three key elements of effective communication around student-centered learning. You can navigate between sections using the buttons running across the top of the page. Note you do not need to view the sections in a particular order. The following links will direct you directly to the corresponding section on the Nellie Mae: Students at the Hub website, where the toolkit is hosted.
The Public Story section is full of practical communications resources, such tips on writing a communications plan and working with the media and sample press releases, op-eds, and brochures.

The Deep Dialogue section includes many tools to help facilitators design activities for their own meetings, including text-based protocols, videos and quotations to spark more productive dialogue.

The Youth Engagement section features methods and tools for building student voice and youth-adult partnerships, as well as resources to empower youth to become action researchers.