Over the past two years, UP for Learning has been working with two career centers – River Bend Career and Technical Center (RBCTC) in Bradford and North Country Career Center (NCCC) in Newport – to bring youth voice and youth-adult partnership to the strategic planning process. It has been an inspiring process to witness – students and educators exploring the possibilities for working together and conducting an action research project.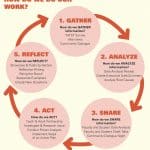 Action Research is a proven, systematic approach for decision making and action that mirrors the process for strategic planning. It includes the following steps:
Identify questions of significance that will inform change
Ask all stakeholders to respond to the questions to ensure equity of voice
Collect input/data from all stakeholders
Analyze the data and identify priorities
Engage the community in unearthing "root causes" and informing actions
Take action
Evaluate the outcomes
Use the information from the evaluation to identify the next steps
All career centers are required to create a "student-centered" strategic plan in order to address one of the requirements for federal funding in Perkins V, the federal legislation that funds career and technical education. Ironically, students are generally absent in the strategic planning process. From our point of view and in the words of a nationally recognized educational researcher, Alison Cook-Sather, "there is something fundamentally amiss about building and rebuilding an entire system without consulting at any point those it is designed to serve."
So, it has been heartening – and productive – to contribute to the work with our partners. Two years ago, UP helped the RBCTC establish a youth team to elevate their impact on educational decisions. When then faced with an upcoming reaccreditation, this youth team was poised to play a central role. This year UP has been helping them carry out this self-study, including both community and faculty members. The results of their research will inform their 3-5 year strategic plan. It has been a dynamic and substantive learning experience.
At NCCC, the existing UP supported Youth Voice team has been at work building understanding and interest in the offerings at NCCC, as well as dispelling the perception that a career center path is less rigorous or valuable than a high school diploma. Together with the director, they introduced the student-centered strategic planning process at a recent community event. Students were in attendance to represent their programs and attendees were asked to engage with the students and document their learning. This was a highly effective means to improve community and family awareness of career pathways. Youth are often far more compelling messengers. The Youth Voice team will take up the work surveying the students and faculty at NCCC, facilitating follow-up focus groups, and surveying the student body and faculty at the sending schools.
With all this work in motion, UP for Learning is hoping to collaborate with other career centers that would like to take up this student-centered approach to strategic planning.
For more information, contact Harry Frank, Program Director at UP for Learning: [email protected] / 802-989-4913