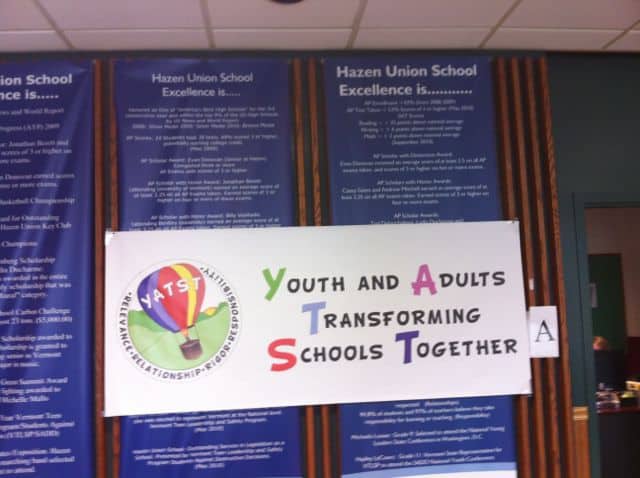 Vermont' effort to elevate student involvement in learning and school decision-making was featured at the recent American Education Research Association (AERA) annual meeting in Philadelphia. Dr. Helen Beattie of East Hardwick, Director of UP for Learning, co-presented on a panel entitled, The Roles of Student Voice, Participation and Youth-Adult Partnership in Promoting Student Development.
Dr. Helen Beattie co-founded Youth and Adults Transforming Schools Together (YATST) in 2008. YATSTs' goal is to increase student engagement in learning and voice in decision making by creating a partnership between students, faculty and the community. They join together to increase relevance, relationships, rigor and shared responsibility in Vermont schools through an action research process. Beattie also founded Unleashing the Power of Partnership for Learning (UP for Learning) in 2012.
YATST was invited to the AERA conference because few other models exist in the country, said Helen Beattie. It's exciting to be sought out, and to share this complex work with researchers and schools on an international platform. Our goal is to elevate student roles in learning and decision making.
The American Education Research Association (AERA) is the nation' premier conference on educational research. Dr. Beattie joined Dr. Dana Mitra and Catharine Biddle of Pennsylvania State University on a presentation panel, whose focus was youth voice. YATST was highlighted as an innovative program.
Few models of youth-adult partnership exist in the United States, said Catharine Biddle, Doctoral Candidate at Pennsylvania State University. YATST has one of the most sophisticated visions of this work.
Vermont is widely recognized as a leader in the movement toward student-cecentered learning, shifting a long-held paradigm of students as passive recipients' of learning to active partners in the learning process.