Responsive Facilitation & Public Speaking: Building Essential Skills for Youth-Adult Partners in School Change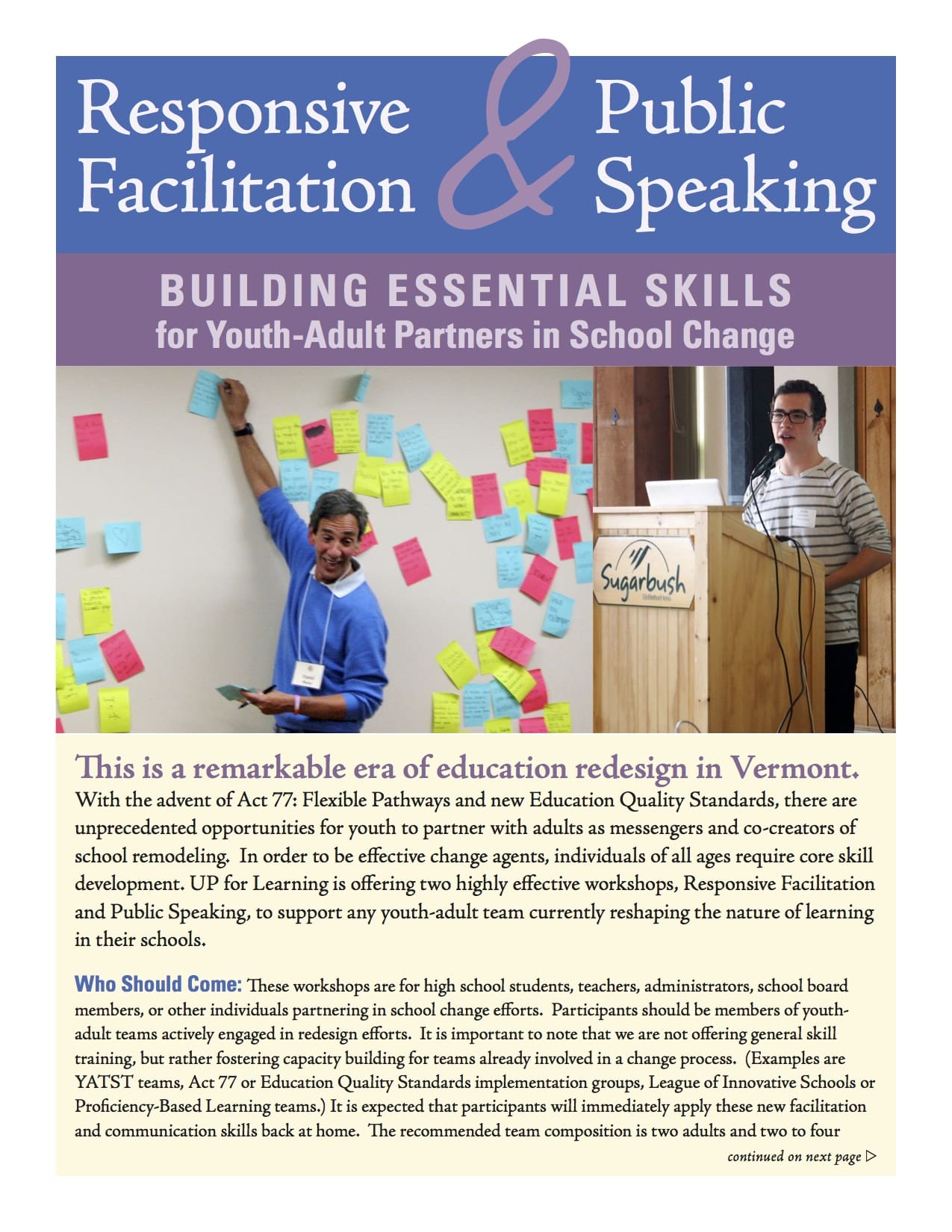 UP for Learning is offering two highly effective workshops, Responsive Facilitation and Public Speaking, to support any high school youth-adult team currently reshaping the nature of learning in their schools.Please click here to view the full flyer.
The Responsive Facilitation interactive workshop introduces facilitation protocols developed by the national School Reform Initiative (SRI). Participants will be prepared to take a lead role in planning and facilitating interactive dialogue events in multiple settings back at home, with audiences of all sizes and with attendees of all ages. Nationally recognized facilitator and SRI co-founder, Daniel Baron, models these strategies and participants experience and then reflect on their use from a facilitator perspective.
Responsive Facilitation Workshops (9:00 – 4:30):
February 5 at the Labor Hall in Barre
Registration: http://tinyurl.com/upbaronlabor
February 6 at the College of St. Joseph in Rutland.
Registration: http://tinyurl.com/upbaroncsj
The Public Speaking Workshop will target those in school change who often find themselves on the spot in varied public settings. Participants will explore the essential components of public speaking, including tips and exercises to improve speaking and listening skills, the impact of body language, the power of our gestures, and the use of vocal variety. This workshop will be facilitated by Dona Bate, President and owner of dbate speaking, a communications consulting firm in Montpelier.
March 17 Public Speaking Workshop will be held from 9:00-2:00 at Community College of Vermont in Montpelier.
Registration: http://tinyurl.com/updbate
Registrations will be accepted on a first-come, first serve basis and space is limited.