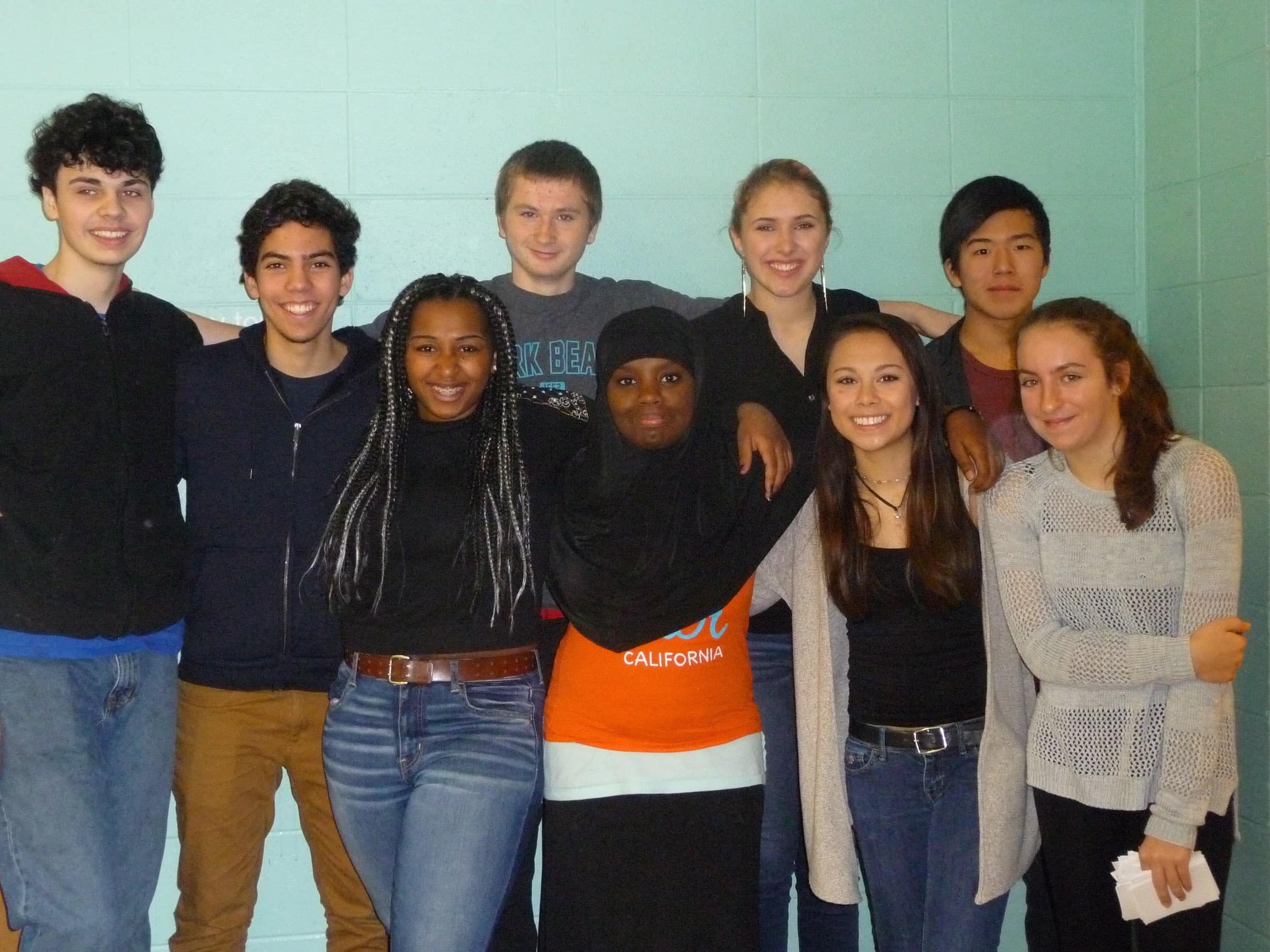 Students in grades 8-12 gathered in the Twinspace Cafeteria bright and early last Thursday, January 14th, to participate in student-led activities focused on Relevance, Rigor, Responsibility, and Relationship. The four R's guide the work being done by the Youth and Adults Transforming Schools Together (YATST). A survey written, administered, and analyzed by the team culminated in this hour-long assembly that is part of the team's Action Plan for Change. YATST Advisor Chris Sheehan opened briefly: This is a chance to get as many voices as possible to contribute as to what we need to change to make our high school as good as possible.
Following Jakob Dufresne and Heba Mohamud's welcome, Augusta Heintz and Sally Weinstein shared some survey strengths: 90% of students and 100% of teachers said they have opportunities outside the classroom; 83% of students have high expectations for themselves, and 94% said they respect their teachers.
All of the 8th-12th graders became actively involved for the rest of the assembly as Augusta, with Asia Bernatchy and Zephryn Davis conducted a quick activity called Too Many Sitting then Summer Haverick and Vinicius Andrade, assisted by other YATST team members, led them through a more involved Wagon Wheel.Chairs had been arranged in advance so that students in groups of 12-15 sat inside and outside the circle with the outside rotating as they read and briefly discussed a handout on Relevance, Rigor, Responsibility, and Relationship. For example, on the Relationship page, they read: Current brain research has revealed the neuroplasticity of the brain and its ability to grow with use, dispelling a widely held myth that certain people are smart and others are not, based on erroneous stereotypes and assumptions. While the group was very large for such an activity, the students pulled it off, engaging in dialogue with friends as well as fellow students they may seldom speak with closing comments invited students to log into the YATST Suggestion Box newly posted on the school's website. Zephyrn thanked everyone for participating. We'Äôre showing you that we're actually doing something with the results of the survey, not just letting it go to blow in the wind. He stressed that their input to the Action Plan is vital to changing things in our school.
Picutre Left to right, back row: Zephyrn Davis, Vinicius Andrade, Tim Lovely, Augusta Heintz, Jakob Dufresne Front row: Asia Bernatchy, Heba Mohamud, Summer Haverick, Sally Weinstein
This article was writen for UP for Learning by Communications Coordinator, Sue Trecartin.