The first stop was the Fannie Lou Hamer Freedom High School in the Bronx – situated in the poorest community in the country (100% student free and reduced lunch eligibility). Colorful student art graces the hallways. Standardized tests have been replaced by portfolios. Community-based service opportunities and internships are interspersed with classroom time. Wrap around services, offered through the Children' Aid Society, provide a wide array of after-school program options and family support . The 470 students are grouped into smaller learning communities, resulting in close relationships between students and faculty. The legacy of Fannie Lou Hamer, civil rights activist, lives on in the school' deep commitment to provide a quality education to all students in this community.
We then travelled to THE POINT, a youth organization based on the principles of asset-based community development' and the belief that the residents of the South Bronx, especially the young people, have the inherent vision and ability to transform their neighborhoods.' As we walked down to the waterfront in this industrial area, THE POINT Director and Program Director shared stories of both environmental and civil rights abuse, helping us understand the integral role this organization plays in the neighborhood to address these issues. Social justice issues fuel programming and services, enabling young people in the community to embrace success and take charge of their lives and their future.
On Friday morning we wound our way up Manhattan to the Calhoun School, a private school with a public purpose. This progressive school places a high value on experiential learning, segmenting the year into six week mods. This allows for deep study in a limited number of subjects at any one time. The school commitment to social justice was evident in their Deconstructing Racism' project, creating a film and curriculum to surface issues of white privilege and institutional racism.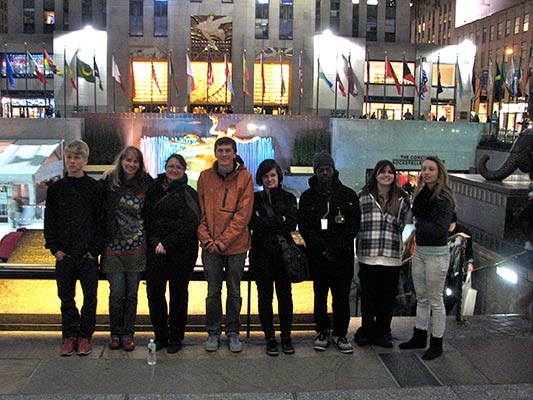 The tour culminated at El Puente, a Brooklyn based largely Hispanic organization, which grew out of a community initiative 30 years ago, during a time of great poverty and strife. We were greeted by a delicious meal and founder Frances Lucerna' inspiring story of the organization' evolution. She recounted the quest for peace and social change through youth leadership and civic engagement activities, arts-focused projects, and community health and environmental wellness initiatives. We then visited the El Puente Academy for Peace and Justice, established 20 years ago, as the first US school ever dedicated to human rights and social justice. Testimonies of a group of students involved in a Girls' Group' and a group of boys committed to a mentoring program repeatedly described the school as family".
Our hosts' sense of passion and purpose were constants at each of these diverse sites. This was coupled with an unwavering belief in the wisdom and capacity of young people to be agents of change, through a rich array of social activism opportunities. The challenges confronting these communities – glaring social inequity and injustice and environmental hazards – were overwhelming at times. Hope and a pervasive sense of empowerment provided balance to these stark realities.
How does this experience translate to our rural Vermont schools? What form does passion and purpose take here? Despite dramatically different backdrops, how are we alike and what can we learn from these similarities? How can the progressive practices we saw inform and inspire our YATST work? The trip left us with both a wealth of new ideas and information, and many questions to deepen our work over time.