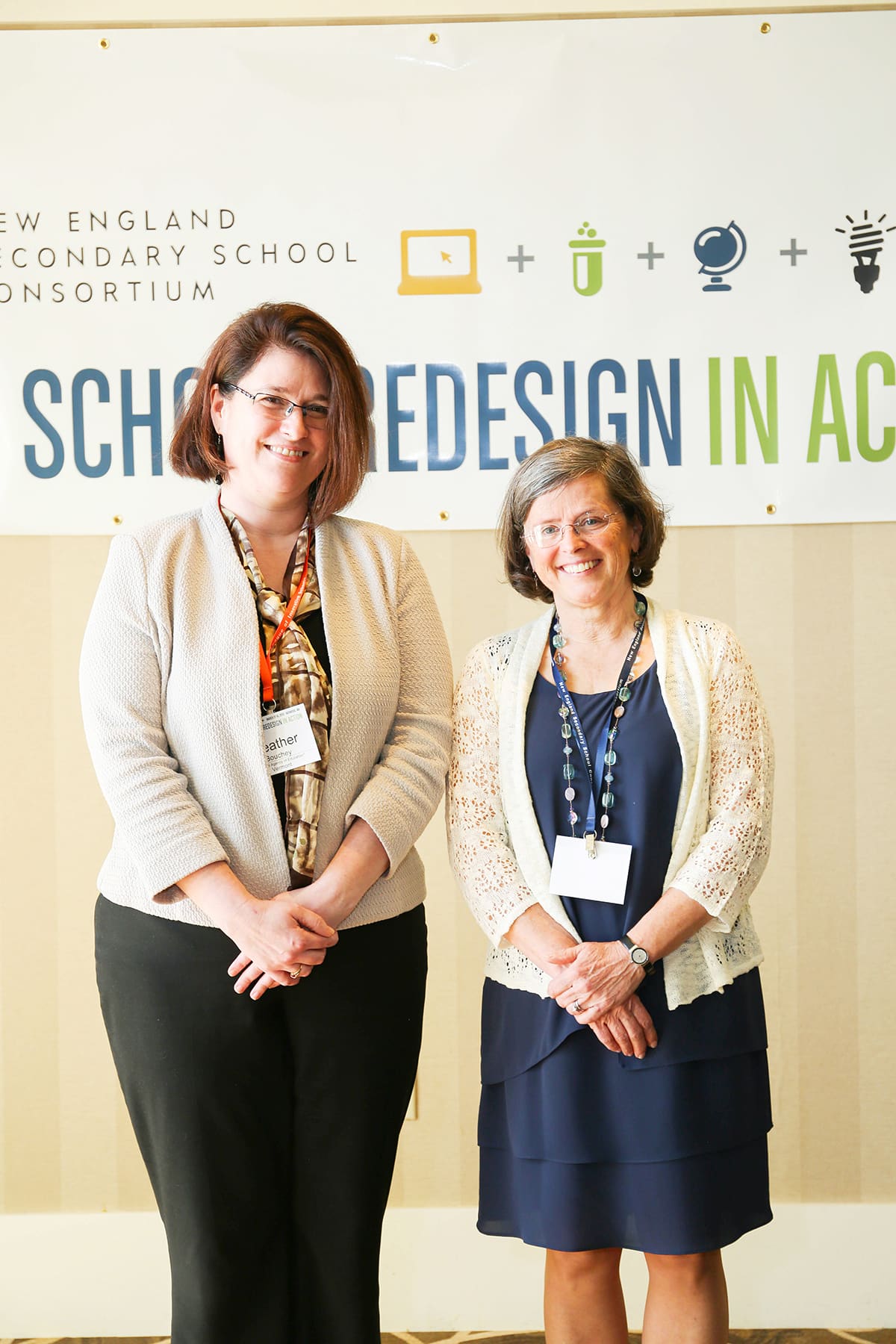 Dr. Helen Beattie, executive director and founder of UP for Learning (Unleashing the Power of Partnership for Learning), received a 2016 educational Champion award from the New England Secondary School Consortium for her unique contributions to education redesign in Vermont. Her plaque reads: 2016 Vermont State Champion. A persuasive voice for enhancing learning through strong policy, best practice, and supportive public will. Helen was one of seven Champions recognized this year for their extraordinary commitment to ensuring that public-school students across New England have a chance to succeed in school, live a fulfilled and meaningful life, and make a positive contribution to the world.
In her presentation of the award to Helen, Vermont's Agency of Education Deputy Secretary Heather Bouchey said: Hele's Youth and Adults Transforming Schools Together framework has informed personalization and flexible pathways legislation and legislative efforts in Vermont. Her ongoing work has certainly extended and helped us implement these initial, very broadly-sketched legislative mandates, which has been very helpful for us as the Agency of Education. I have no idea how, but Helen's work has managed to include student's voice, sustainable transformational legislation at both the school and district level, creative dual enrollment opportunities for students embedded in her work, and also a strong focus on program evaluation, all in the same set of work, and I find this just completely incredible! We are so grateful and blessed in Vermont to benefit from her vision and leadership.
The other Champion Award winners were: Nicholas Donohue, president and CEO of the Nellie Mae Education Foundation for New England; Allan Taylor, chairman of the State Board of Education for Connecticut; Mark Joyce, executive director of the School Administrators Association for New Hampshire; Christine Hesler, Curriculum, Instruction and Development Director of Regional School Unit 14 and Christopher Howell, principal of Windham High School for Maine; and, Sharon Lee, former director of the office of multiple pathways at the Rhode Island Department of Education.
Ensuring high quality learning for every student is a broad-based effort that needs support from a variety of people, but in all cases, it's individuals that need to accept this challenge, shape this work, and influence our collective efforts," said David Ruff, executive director of the Great Schools Partnership and the New England Secondary School Consortium. These champions do this through their deep thinking, their tireless energy, and their unwavering commitment to students they will never know. Far too few students will ever know that their lives have been positively influenced by the efforts of the 2016 New England Secondary School Consortium Champions."
As a licensed school psychologist and educational consultant, Helen specializes in strategies to build school cultures in which youth are both engaged and empowered as learners and change agents. Action research is often central to her efforts. Among a wide variety of endeavors prior to founding UP for Learning, she has co-authored a statewide student leadership curriculum, Our Voices: Our Community, and has implemented a project-based middle and high school curriculum titled Lights, Camera…Leadership!
The awards were given out on Thursday, March 17, at the annual High School Redesign in Action conference, which is hosted by the New England Secondary School Consortium in collaboration with the departments and agencies of education in Connecticut, Maine, New Hampshire, Rhode Island, and Vermont. Now in its seventh year, the conference attracted more than 900 educators, students, policy makers, and business leaders representing 17 states. Nearly thirty New England schools, districts, and community organizations were invited to present at the conference. All presenters have made significant progress raising student achievement, graduation rates, college-enrollment numbers, or other indicators of educational success.
The New England Secondary School Consortium is a regional partnership working to advance forward-thinking innovations in secondary education that will empower the next generation of citizens, workers, and leaders. The Consortium's goal is to ensure that every public high school student receives an education that prepares them for success in the colleges, careers, and communities of the 21st century. The Consortium is funded by the Nellie Mae Education Foundation, the largest philanthropy in New England focused exclusively on education, and coordinated by the Great Schools Partnership, a nonprofit educational-support organization in Portland, Maine.
Article Written by Sue Trecartin. Picture by Julie K. Gray.