Every member of a school community has a sphere of influence. This sphere contains an interwoven network of relationships that can influence decisions, policy and practices. The outcomes ultimately depend on the strength of the relationships among students, teachers, administrators, families and community members. Schools across Vermont have been exploring the idea of implementing a whole school restorative approach within the current structure of the school system. As with any other movement within a system, in order for change to occur, one must locate the heart of this work. The heart is where we do the challenging work – it is the place that allows us to critically examine our own practices and explore alternatives that push us to truly transform systems. Research shows that restorative approaches can transform behavior and build healthy school communities. Schools must "introduce changes across the whole school…to improve all children's [and I would add, adult's] involvement and commitment to schooling." A whole-school approach is defined as commitment by students, staff, board members, family, community and government. 1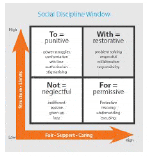 Restorative practices largely originated as an alternative approach to punishment (Restorative Justice). However, as it has been implemented around the world, it has become clear that restorative practices are most powerful when implemented before conflict arises. When implemented holistically in schools and communities, restorative practices help to develop a culture where everyone's voice is heard and valued and relationships become the cornerstone of the community. Instead of top-down punitive practices that further erode relationships, restorative practices places emphasis on relationships, collaborative problem solving and collective responsibility. These practices should be understood as a way to build a culture in which healthy relationships thrive and conflict is transformed into healing and learning. 
What if instead of talking about restorative practices, justice, circles and conferences in schools as isolated entities, we traveled to the heart of this change work and started talking about restorative pedagogy? What does it mean to teach and learn within a restorative window? How do we examine our own pedagogical practices and mental models to disrupt the current structures that deny us access to the transformative heart of this work? 
Partnership – Relationships – when we look at the Social Discipline Window, it's all about With! The restorative window pushes us to be "with" our students daily. Restorative practices encourage educators to get to know their students beyond the context of the classroom, which often sheds light on underlying and unmet needs. But what does this mean? Within the social discipline window, this indicates a high level of support and care with high expectations for every member of a school community. It is so clear that in order to be teaching and learning within a restorative window, youth and adults need to be "with" one another in an authentic partnership. Typically, restorative practice professional development and learning occurs for the adults in the building so that it can be infused into the school culture. 
Partnership with youth moves us into the "with" quadrant of the window when it requires a shift to shared voice, power and responsibility. Authentic relationships with our young people are crucial in order to shift the culture of our schools. It is evident that the roots of both youth-adult partnership and restorative practices are exactly the same.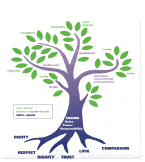 Relationships will not grow without the nutrients of dignity, respect, equity, trust, love and compassion. These are the values that feed both youth-adult partnerships and restorative practices. Given this common set of values, the two approaches can and should be combined for maximum impact. Instead of assuming that adults need to learn about restorative practices in advance, with the expectation that teachers will then bring that learning to their students, we could trust young people to be co-learners from the beginning.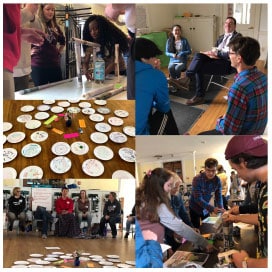 When youth and adults partner together to learn about and implement restorative practices within their educational system, they will findthat those practices are a positive, disruptive force to realizing greater equity in education and stronger relationships. They provide greater balance and strength to the youth-adult partnerships in learning, greater opportunity for building empathy, bridging differences, and strengthening more just, joyful, and sustainable communities. Restorative practices are truly a form of participatory democracy in that they build and heal communities, and serve as a means to work through, resolve, and transform conflicts. 
Interested in joining the 2019-2020 cohort of youth-adult teams from across VT? Fill out this Google Form: https://forms.gle/inpU8xdotiCqCSv78 
For More information: https://drive.google.com/file/d/1L9QRx9tQT_-TlZEPHt0auFTVrO7nt-IA/view?usp=sharing 
Works Cited 
Porter, Abbey J. "Restorative Practices in Schools: Research Reveals Power of Restorative Approach, Part I." IIRP, 
www.iirp.edu/news/restorative-practices-in-schools-research-reveals-power-of-restorative-approach-part-i.