While the School Building is Closed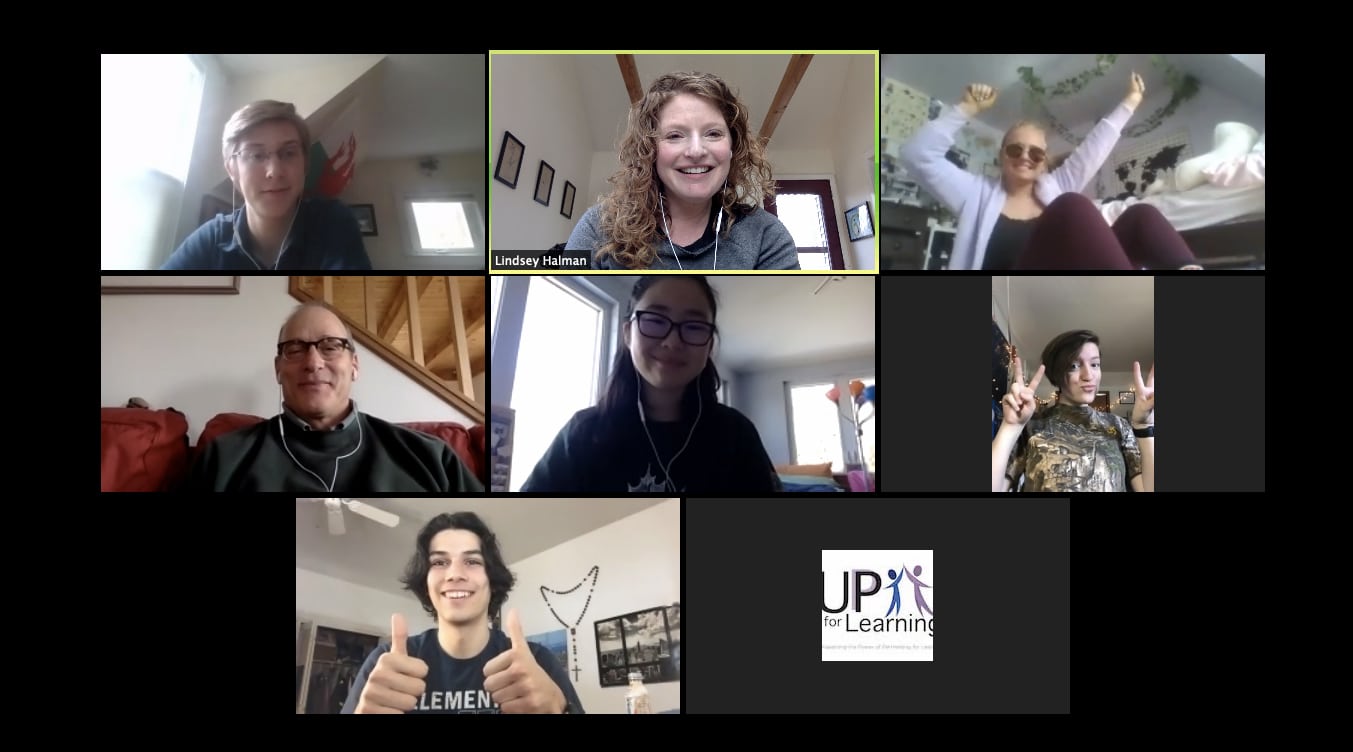 UP Resources: While the school building is closed
Connections
Remote Learning and the Brain: UP's Webinar Series
To help meet the needs of our evolving educational landscape, UP for Learning is hosting a series of professional learning webinars that focus on the impact of stress on learning, the power of positive self-talk, and how the brain learns. Following each webinar, educators will be provided with a lesson and resources they can immediately implement with students to help them become more effective learners during these unprecedented times.

The live webinars will be held every Thursday during May from 3:00-4:00 pm. If you are unable to attend at this time, you can register and a recording of the webinar will be sent to your email. A professional learning hours certificate will be provided by UP for Learning upon completion of each webinar. Register here.
Schedule:
Thursday, May 7th: How Stress and Emotions Impact Learning & Strategies to Reduce Stress
Thursday, May 14th: The Power of a Positive Mindset, Self-Talk, and Response to Errors
Thursday, May 21st: Understanding and Influencing How the Brain Processes Information
Thursday, May 28th:  Strategies for Effective Remote Teaching & Learning 
Check out this short video for additional webinar information, and please contact Amie Conger at amie@upforlearning.org with any questions.
Connecting Youth Across Vermont
UP for Learning's Youth Advisory Council (YAC) has created a survey for Connecting Youth Across VT during this time of physical distancing. The YAC is hoping to cultivate connections across schools so that young people can share their expertise, talents and interests with one another.
Learn More
Educational Resources
UP Resources
Supporting Holistic Restorative Approaches to Learning During School Building Closure:  This resource was created by several different RP specialists, collaborators and trainers who are part of the VT Restorative Approaches Collaborative and with support of the Vermont Department of Health and Division of Alcohol and Substance Abuse Programs.  It is an invaluable resource tool for all school leaders and school staff as well as families during this time of closure.
Learn More
Remote Community Dialogue/Engagement Resource:  UP for Learning has created a resource to support teams in remotely engaging their community through dialogue and connections.
Learn More
Structure and Routines for Virtual Advisories
UP for Learning has created a resource to support teams in developing the structures and practices for maintaining and strengthening connections virtually.
Learn More
Cultivating Pathways to Sustainability: Project-Based Learning and the Sustainable Development Goals during COVID-19 – UP and our partners at Shelburne Farms created a resource to support project-based learning at home for learners and educators.
Learn More
UPdate Archive
Other Resources
Opportunity: Spark House – What's it like to be a young person during COVID-19? Education Reimagined invites you to share your experience as a young person (ages 10-22) with the world. As learners who've experienced learner-centered education, provide a sneak peak into how you are doing, what you're learning about, and what your learning experience has been like during this pandemic. Provide insight into what education leaders should know as they plan for the upcoming months and year. 
End Well, Plan Well, Begin Well: Re-establishing the School as Community – An excellent resource from Dave Melnick (NFI) on healing from collective crisis and trauma.
Weekly TA Tips from the MHS RP Team. With their permission, we have shared the emails that they have sent out to support the TA's at their school during this pandemic, in hopes that they can be a support to your team.

Young Writers Project Social Distancing Journal: WHAT HAPPENS WHEN THE WORLD STOPS? Young Writers Project and YWP alumna Adelle Brunstad are working together to document the COVID-19 pandemic through the eyes of YWPers. We are collecting your candid reflections of the strangest period of our lives in words, photos, and art. Share your observations, moments, realizations, frustrations, laughter, sadness, fears, hopes — whatever you're thinking, feeling, seeing.
Education Reimagined Distance Learning Resource Center : Myriad resources for young people, parents, and educators to find grounding during this unprecedented moment and engage in rich distance learning experiences.
COVID-19 Support: Vermont PBS At-Home Learning
Vermont Public Broadcasting System (PBS) and the Vermont Agency of Education (AOE) are partnering to support continuity of learning for our students and school communities. This partnership provides access to free educational programming through Vermont PBS At-Home Learning. The Main channel delivers Pre-K through grade 8 programming that is aligned to national standards and includes interactive lessons and suggested activities. PBS Plus (WGBH) is airing standards-aligned educational programming for grades 6-12. Teachers can create unique accounts with their school email or Google account through PBS LearningMedia. Accounts are free and provide access to a range of additional features. Please contact Pat Fitzsimmons or Heather Duhamel.
Learn More
Core Philosophies of LUHS Distance Learning / Education in a time of CoronaVirus
Shared with permission from the team at Lamoille Union High School
Learn More
Vermont Agency of Education Continuity of Learning Plan
This is a helpful template from the AOE.  Review to see what the AOE has prioritized during distant learning.
Learn More
Our Shared Humanity
Join educators, school leaders, partners, and community members every Thursday at 1 p.m. on ZOOM for a 35-minute restorative opportunity to pause, reflect and connect. Attend when you can. No commitment necessary! Hosted by Annie O'Shaughnessy and other members of the RAC, this shared time will provide a much-needed sense of connection and calm.
Register Here
Slowing Down to Meet Our Students Needs – Agency By Design Oakland
Learn More
Community Resources
Why the Coronavirus Hits Teenagers Particularly Hard: Teenagers are hungry for exploration, social connection, and independence–the kinds of developmental drives that have become directly threatened by the same measures that are absolutely essential for public health.
How the Education System Can Take Advantage of its Newfound Flexibilities During COVID-19 and Beyond Lindsy Ogawa, the Director of Community Engagement for Education Reimagined writes, "There is reason to believe the majority of schools will, in fact, go back to some kind of "normal" come fall, but for those who see this moment as the moment to transform, we can move ever closer to the tipping point where a high-quality, learner-centered education becomes truly available for every single child and family who wants it. Are you ready to create a new normal in your community?"
Living Justice Press – Creating Online Restorative Circles: Over the past two decades in the Restorative Justice movement, we have been nurturing relationships as the basis of a healthy community and as a critical part of any response to the disruption of a healthy community. That relational work has been done primarily in physical face-to-face presence with one another. The COVID19 pandemic has severely limited our ability to be physically present with one another. Consequently, many people are seeking ways to continue relational work by other means—other than being in the same physical space.
Learn More

KidsVT: Advice for Navigating At-Home Education by Kathleen Kesson: We will undoubtedly be faced with more crises in the future that require us to think in new ways about all aspects of our social life: How do we create strong communities? What do we collectively value? How can we build networks of support so that all are cared for? And in terms of our youth, and their education: How do we create educational approaches that value human development, equity and joy over test scores and academic achievement? What is worth learning, and how can we best prepare young people for the actual future that is evolving before our eyes? What needs to be in place to match up learners with the right resources at the right time, so that they might become self-directed and fulfill their dreams?
Learn More

UVM Extension Program
There are many opportunities for Youth from the UVM Extension Program. You do not need to be a 4-H member to participate in many offerings!
Learn More

Vermont Folklife Center
Listening in Place will preserve recordings submitted to us by Vermonters, creating a living document of how Vermonters are coping with this global reality. We invite people to send us audio recordings of interviews with the people they are sheltering with, exploring their lives during this time of pandemic. We also encourage people to record the sounds that punctuate their lives in these unusual times—board games and birds, cooking and pets—whatever fills your ears.
Learn More
Search Institute Nurturing Relationships Online
Survey results of youth thoughts about how online connections help or hurt their friendships. Search suggests looking at their answers to prompt thought about our own changing interactions and relationships in the time of COVID.
Learn More
How to Help Teens Shelter in Place
Greater Good Magazine's article about how to help your teenager to see the bigger picture.  Teens are not made for isolation, which makes COVID-19 especially hard on them.
Learn More
A Trauma-Informed Approach to Teaching Through Coronavirus
Teaching Tolerance and Experts from the National Child Traumatic Stress Network share their recommendations for educators supporting students during the COVID-19 crisis.
Learn More
Youth Voice on the Internet
Written by Adam Fletcher for the Freechild Institute, this document shares information about youth voice on the internet, including types, expressions, and a continuum of youth voice online.
Learn More