2021 International Summit on Student Voice
June 24 @ 11:00 pm

-

June 26 @ 3:00 am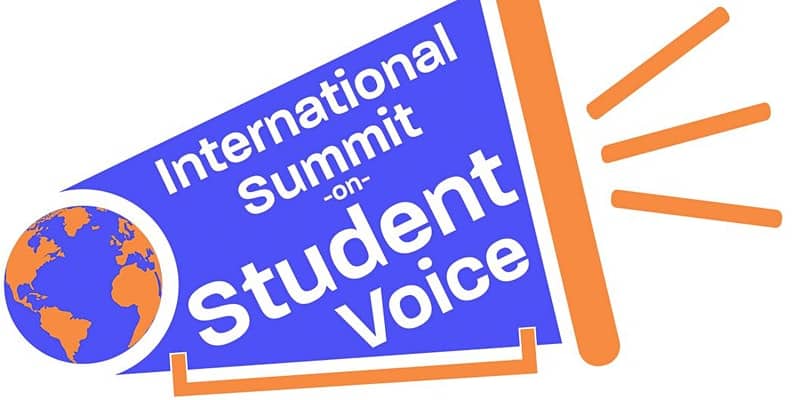 Join the 2021 Summit for two days of training and conversation on what student voice is, how it affects you, and how to organize!
About this Event
This is the 12th annual International gathering to address the issues and movement surrounding student voice within K-16 educational spaces. Students in both primary and secondary education have been historically excluded from being active participants in their education. Students have been undercut as stakeholders in a system which is supposedly designed to benefit students. Most educational decisions today are continuing to exclude students in the conversation, even after international youth advocacy movements have rocked the world stage over the past decade.
Throughout the world, there is a visible increase in student voice in schools and organizations, but it's not enough. We recognize that there are schools, nonprofits, and community organizations working hard to close this stakeholder gap, but we need systemic change for large scale improvements. We say that students deserve to be a part of the process.
Students and adults attending the summit will learn grassroots organizing tactics to teach others the whys and hows about the importance of student voice in schools. A session on Youth-Adult Partnerships will also be available for students and adult allies as it relates directly to the student voice movement.
Join us from June 24-25, each day starting at 12:30pm CDT and ending at 4:30pm CDT. Due to the international nature of the summit, this time zone aims to allow for most participants around the world to attend during waking hours.
We invite students of all ages and adult allies to join, though the concepts may be best suited for middle school through college students. We hope to interest participants who are new to student voice and/or community organizing, and want to establish a community of student voice activists who are passionate about improving educational opportunities. The summit is limited to 500 participants for now, but may increase if there is more demand. You can register up to two days before the summit. This is to make sure we have accurate numbers for our facilitators to work with in breakout rooms and activities.
Sponsored by: Pathways 2 Tomorrow & Iowa Student Learning Institute
Partner Organizations Include: Center for Violence Prevention, FAMU College of Education, Florida Association of Student Councils, Generation Citizen, Healthy Teens Coalition of Manatee County, KY Student Voice Team, Minneapolis Public Schools, National Youth Leadership Council, Old Dominion University, Oregon Student Voice, Student Voice, Student Voices| Florida Students United, UChicago Consortium on School Research, University of Minnesota Extension Center for Youth Development, UP for Learning, Youth Action Squad: Racial Justice unit from the Iowa Department of Human Rights, Youth and Educators Succeeding, Freechild Institute, SoundOut, Youth Communication.
Code of Conduct: Our summit is dedicated to providing a safe and valuable summit experience for everyone, regardless of gender, gender identity and expression, age, sexual orientation, ability, physical appearance, body size, race, ethnicity, religion (or lack thereof), or technology choices. Interactive features are provided solely for learning and to share about service-learning and education-related experiences. Use for other purposes including, but not limited to, unsolicited contact about products or services, is not allowed. We do not tolerate harassment of summit participants in any form. Summit participants violating these rules may be sanctioned or expelled from the summit without a refund at the discretion of the summit organizers. All sessions will be video and audio recorded. Participants may turn off their cameras or remove their names if they do not wish to be pictured in session recordings or on promotional material for the event.