Values & Guiding Principles

SHARE RESPONSIBILITY: The process of change must be transparent and must be driven by adults and youth in partnership.
START FROM STRENGTHS: Students and educators have the wisdom and capacity to orchestrate change. Beginning with what's working provides hope and energizes a community to embrace change.
ASSUME POSITIVE INTENTIONS: Educators truly want students to thrive. Young people are ready and able to commit to their learning and be involved in its design.
SEEK EQUITY & JUSTICE: The human need to be valued and heard is universal. All young people have a right to a meaningful and engaging education.
CREATE  OPEN DIALOGUE: Deep conversation is central to changing school cultures. Young people are particularly able initiators of this dialogue, creating a shared vision for education and the learning process.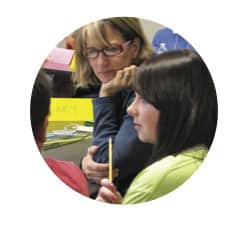 EMPLOY DATA TO DRIVE CHANGE: Research is a vitally important way to build credibility between youth and adults. When a community works together to make meaning of their own data, they are strengthened by what they learn and emboldened to take action.